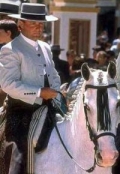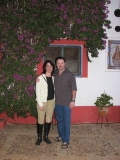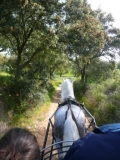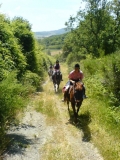 February '15 - Cheshire
Wonderful week in Cheshire horse riding through Equestrian Escapes. My 10 year old daughter thoroughly enjoyed herself and the coaching and support she received from the trainers at the stables was second to none. We have a lovely hack on the last day and I could really see how confident my daughter was on her horse Taggy. Tears when we had to leave and we can't wait to come back.

Thank you, Joanne
January '15 - Portugal
Katherine was the perfect host. I was collected from the station by her partner Martin and his lovely dog Willow, who was to accompany us on most of our rides the rest of the week. The cottage that we stayed in was cosy with a wood burning stove going 24/7 making you forget that it was mid winter. All the rooms had electric blankets, fleecy blankets and spare heaters so we did not get cold at night and Katherine made sure we had everything we needed.

The riding was fantastic. On my first day, I rose Paloma, a sweet bay pony who is not only a confidence giver but fantastic fun to jump as I found out later in the week. All the horses are kept immaculately. They may not be sparkling white from being groomed 100 times a day and kept in stalls but they are happy, healthy and well cared for. I can vouch for their quality of life not just as someone who has been around horses for many years but as an equine veterinarian too. Katherine has reduced a number of horses and unless you were told this, you would never know as they are in such good condition and such a pleasure to ride.

The one on one days were certainly my favourite part, getting a dressage lesson in the morning on a Lusitania stallion followed by a hack and a jumping lesson all before lunch was great. The highlight of my trip has to be when we set up a jump cross course through the olive groves and Katherine and I rode Hope and Paloma round.

I would 110% recommend someone to go stay with Katherine. Just don't expect Portugese winters to be hot! Bring plenty of layers and waterproofs if you go in January as the weather was very changeable!


Lydia L
Januray '15 - Almeria
Hi Lindsey
Just to let you know we had the best weeks holiday ever in Almeria in Southern Spain.

What made the holiday so special, is their customer service towards us, very friendly, organised, relaxed atmosphere, attention to detail when teaching in the arena, making us feel confident being on their wonderful horses. Food excellent! Scenery amazing landscape. Villa very comfy, hot tub a must to ease the muscles.
I would defiantly recommend this holiday to anyone.
Best wishes
Serena
December '14 - Wiltshire
Hello Lindsey and colleagues,

Very many thanks for the gorgeous "card" you sent…it is beyond cute.

Just wanted formally to thank you for introducing me to Angie and riding at Rushmore. She and Russell have developed into real friends whom I would not have made without you.

They made the 5+ hours' drive up from Wiltshire to Cheshire a couple of weeks ago so that Angie could inspect my new horse, clip him and generally give him an "Angie makeover" which left him looking wonderful. She agreed with my unease about where he was at livery, then vetted and approved the yard to which I have now moved him. Her input, personality and knowledge was so empowering for me, and I am very grateful to her for that ( and by extension, to yourselves.)

Please accept my warmest wishes for a Merry Christmas, and a successful New Year.

Kindest regards,

Margaret.
November '14 - Wiltshire
Hi Lindsey!

Just back from an amazing weekend with gorgeous Angie - we can't believe how lucky we were - felt we'd died and gone to Heaven.

Again - can't thank you enough for putting us in touch with such an amazing person - we had a wonderful, wonderful time.

Kindest regards
Carolyn and Judi
September '14 - Jerez
Hi

Just to let you know we had a fantastic time in Jerez. Alfonso was amazing as were all the hotel staff.

Thank you very much for all your help

Markus and Leah
September '14 - Wiltshire
Hi Lindsey
We just got back from your Wiltshire holiday. The weekend was fabulous, horses wonderful and the countryside awesome. Angie was a great teacher and guide and obviously loved her horses. I could thoroughly recommend this holiday and we are already thinking about the next one.
Kind regards
Alison
September '14 - Cheshire
Just thanking you for a wonderful weekend at Cheshire , all staff at the riding centre from were very proffesional in their approach and the one to one instruction was excellent . I went from a non rider to cantering on the third lesson (at 65 years old) and my wife had private dressage lessons which she got quite emotional about. If all your centres are of this standard will be booking again!

Geoff and Deborah
September '14 - Portugal
Hi Lindsey

We had a brilliant stay with Katharine this September. She is an excellent horsewoman and teacher and not a bad cook either! The horses are well cared for and happy and Katharine chose the rides that best suited our ability. We enjoyed a mixture of hacking out in wonderful countryside and lessons back at the stables. Our confidence in riding grew tremendously in the space of a week and our only regret is that we couldn't stay for longer. Can't wait to visit again in 2015.

Kind regards

Linda and Dave
September '14 - Brecon Beacons
Hi Lindsey,

just a quick email to let you know I had an awesome time in Wales.
Everyone was so nice and welcoming, the horses were great and the landscapes breathtaking.
I feel so rested and relaxed!

Thank you for making this happen!

Kind regards,
Blandine
September '14 - Cheshire
Hi, Chris & I had a brilliant time on our learn to canter break in Cheshire. Chris can now canter, one handed too!!, 20 metre circles, etc. For someone who had just 4 lessons before we arrived I think thats pretty amazing! Sandra & the rest of the team were absolutely wonderful as were the horses they gave us. We plan on going back just for the odd lesson or hack even though its a 3.5 hour road trip. Thank you for the best riding experience I have had so far!
Kathy W
August '14 - World Equestrian Games Normandy
Just a quick thank you for all your efforts during WEG. Special thanks to Mark from me for all his work.
The French don't like to make life easy do they!
There were a few difficulties nut none of them caused by yourselves and you were very adaptable to the situations as they happened.
Hope you have all recovered.
Thanks again Rosemary
To everyone at Equestrian Escapes,

My husband and I would like to thank you all for organising a fabulous package for us including the hotel in Cabourg (which we loved) and the great seats at the show.

What an experience, which exceeded my expectations.

Thanks VERY much once again....you guys were fabulous.

We hope you can all take a breather now yourselves, as I am sure it was very demanding on all of you as the event came closer and during the 2 weeks as well.

Take care and all the very best...until 'next time'

Donnee and Lawrence
Dear Sarah and Team,

Do hope you are all home and dry and relaxing (?) after what must have been
for you a pretty challenging time in France! I wanted to send a quick
note of thanks to you all, and including the coach drivers, for all your efforts to deliver a very enjoyable trip. I thought that the Kyriad hotel came well up to scratch for being so accommodating and flexible, and the only thing about the rooms was that there was no time to sleep in them!!

One has now heard much criticism about the French organisation, particularly re the traffic, and I expect you saw also that Canadian medallists could not get to the stadium to receive medals because of being stuck in a traffic jam. However we all (and Zara) spurred the team on to
their Silver Medal so it was a very satisfactory outcome.

With all good wishes,

Jocelyn
Hi

Just a quick note to let you know how much we all enjoyed our WEG experience. It wasn't easy for your staff in Normandy but they did their level best to get us all to our various destinations on time and the FEI organisation (or lack of) had nothing to do with them! They coped manfully with all that was thrown at them as far as I could tell!

Port Land camp site in Port en Bessin was lovely and I for one will be going again.

Thank you again, best regards

Ann P
Hi Lindsey

Just wanted to say how much I enjoyed the WEG trip to the 3DE last weekend.
The 3 drivers we had Stan, Andy and Steve were brilliant to say the least. Their knowledge of the roads and country etc was fantastic.
The problems we did have were no one's fault – road works and accidents on the motorway.
Our accommodation was clean and perfectly adequate, the Portlands site was quiet and peaceful with very good facilities.
Thanks again for a brilliant trip. You can't please all the people all the time, well done all of you!

Regards
Pauline (Wallace Party)
Hi Lindsey.
Jenny and I returned home safely.
I just wanted to say we had a FAB time in France at WEG. The Gold Beach accommodation was excellent and Giovanna couldn't have been more welcoming or helpful. I know there were some coach issues encountered during the time, but from our perspective we had no issues at all and thoroughly enjoyed our trip.
I think under the circumstances you and your team thought on your feet and dealt with issues as well as you could have done.
It looked a logistical minefield getting everyone in the right place at the right time, combined with French disorganisation and people changing their minds left, right and centre!

We just wanted to make sure we expressed our appreciation and thanks, we had a wonderful time and couldn't have asked for anything more from you and your team, and to do it all with a laugh and a smile was a great achievement. We'll certainly be trying to scrape together the pennies to go on another Equestrian Escapes trip as you were all first class.

Jo and Jenny
Hi Lou,

I hope you are well? We made it back from WEG last night....and already back at work!
We had a fabulous time! The students where very positive and learnt a lot. We saw some great competition and some beautiful countryside. The hotel was excellent (for a budget hotel), clean tidy with helpful staff, excellent food and service in the restaurant. The village of Port en Bassin was great and will definitely be making a trip back there in the future.
We didn't get to meet the rep and it was a bit slow to get bus leaving times each day but that was our only feedback and certainly didn't de-tracked from our enjoyment. It was a shame that other members of the party where so negative (particularly as we had organised the trip for the students which then potential had an impact/reflection on us!). I did make every effort to keep the other people on our bus positive and help as their unofficial organiser!!

Please thank all your staff as the task to get so many people all the events was challenging.

I have however, left my portable hard drive in the hotel! (with my life is on it!!!!!) I have called the hotel (Kings) and will call again this afternoon but if you speak to one of your colleagues/ the rep please could you ask them to check if it is there and send it back to me (I am happy of course to pay).

Many thanks.

Kind regards,

Victoria
Hi Equestrian Escapes. Am about to head back to uk and that will finish my trip with you.
Just wanted to say I have had a great time. My accommodation was clean and comfortable with a great breakfast each morning. It was in a wonderful area with good restaurants. Shuttles got me to events on time except for the first day which didn't worry me because I enjoyed the little tour the bus went on when the driver got a little lost and we only missed the first two horses go. Seats were great especially for the eventing Showjumping.
Your staff were incredibly obliging and pleasant .
I had one glitch where my accommodation was not booked for the last night and that was fixed.
The one thing I will take away with me is how anxious and untrusting other people are. They angst over things that are not even going to happen and ruin their now as they worry about future possibilities or they create problems that are not even real. Amazing to watch and listen to briefly as I enjoyed myself.
Thank you for all your hard work this has been the easiest holiday I have ever had. I just wish Toddy hadn't fallen off right in front of me at the duck pond. And I missed Totilas. I thought the freestyle was a bit disappointing.
Oh and thank u for adding endurance into my package - it was a highlight.
Shirley
August '14 - New Forest
Hi Lindsey,

I wanted to let you know that we had a wonderful time last week with Anna! The tuition was excellent, and Liz and I both felt that we got a lot out of it. We were made to feel very welcome, and it was just like staying with friends!

Thank you very much for helping us to find somewhere, especially at such short notice.

Kind regards,
Alison
July '14 - Cheshire
Hi Lindsey

Just wanted to tell you how wonderful our riding holiday in Cheshire has been. The hotel was great, very relaxed and we had an upgrade to a beautiful room with a view of the welsh mountains.

The riding was amazing, horses were beautiful and very calm and reassuring. Plus fantastic tuition, we learned so much more than we thought possible.

We are already thinking about booking a return visit! I can truly say it has been one of the best holidays I have ever had.

Many thanks for a wonderful experience, I'll be in touch when we decide on a date for our next holiday :)

Amanda and Simon
June '14 - Peru
I have travelled the world and must say this experience was one of the highlights of my travels. The horses, the accommodations, the scenery, the staff, etc. were top notch. It was an incredible experience and one that I recommend wholeheartedly.

Thank you

Equestrian Escapes
June '14 - Peru
Dear Lindsey,

I did the 10 day trail ride to Macchu Picchu Sept 2013. Everything was fantastic. I traveled alone and was a little concern about this with it being South America. I couldn't have been more wrong. I was looked after like a princess. Everything from being collected at the airport to being dropped off was well organised and ran like clock work. The horse I had was the best I have ever ridden. He was a American Quarter horse and very responsive. He was clever, fast and occasionally cheeky. The american endurance saddles were comfortable and the reign handling was more Western than European but very easy with one hand. The horses were taken care of and I didn't do any of the work. I love these trail rides and I am never ready to dismount but with these endurance horses I was beat! We cantered for long periods at higher than I am use to altitudes and I was physically tired! I was lucky that my group was small so we went fast.

The lodges were fantastic, each with a jacuzzi. I met some fantastic people. Mainly Americans there walking. We would leave after them and arrive at the next lodge before them. It was great passing the walkers on horse back. Not sure I could have done the walk. I put on half a stone during this holiday despite the exercise and came back with some lovely bits of trinkets, jewellery and some powerful coffee!

I am happy to be contacted about this holiday as a reference if people are asking for more details/specifics.

Michelle
June '14 - Cheshire
Hello, I have returned from the most fabulous weekend ever! I had an amazing time and received excellent instruction and several brilliant hacks out, the farm ride was memorable. I cannot fault my stay at the farmhouse B&B which is idyllic Catherine is the perfect host and my room overlooked the livery yard,bliss! Thank you. Joan
May '14 - Portugal
Hi

Just to let you know I had a brilliant time on my riding holiday in Portugal. Would highly recommend the holiday. Highlight was riding/swimming with Pedro in the river. .....the most amazing experience ever! I was so relaxed out there and nearly cried when I left.
As a solo traveller I was completely at ease, I was met at Faro airport by the cleaner and her two dogs and chatted all the way on the journey to the stables like I had known her all my life.

It was just BRILLIANT

Helen S
May '14 - Almeria
Hi Lindsey

I thought you may be interested in our feedback from our riding hols in Almeria. It was absolutely wonderful. The family were lovely and Jay and Erica made us very welcome, as did mom and dad.

The scenery was very picturesque and we had some lovely rides. Sue and I were both touched by the way that they had rescued so many horses and dogs! I really do wish them well and I would definitely recommend this place to anyone interested.

I have also put a note on trip adviser. I think we may very well be back in touch with you before the end of the year to book another holiday, a different country as we don't like to go to the same place 2 years in a row.

Many Thanks
Kind Regards

Jane
April '14 - Malaga
Dear Sarah and Lindsey,

I have just returned from yet another fantastic riding holiday in Spain.

This Andalusian, Spain holiday which you describe as 'Luxury just 40 minutes outside Malaga' is certainly a must for another visit again. The whole holiday has proved yet again, to be a treasure of wonderful experiences.

As you know I have visited before on a 4 night, 5 day trip and this latest 7 night visit has certainly lived up to and indeed, absolutely exceeded any expectations. The beautifully schooled and very well cared for horses, the excellent accommodation, location, climate, hospitality, wonderful scenic hacks riding through the olive groves, alongside vineyards and through wild grasses and camomile, expert tuition, very friendly hosts and staff, great food, dogs to adore……the list is endless, provided so many 'perfect moments' that I cannot wait to return.

Thank you so much for your help in organizing this brilliant holiday. I am returning refreshed and inspired to continue improving my riding abilities.

I am attaching a few photos which I thought you might like to see. In the meantime, once I have organized things at home, I shall be in touch again.

All the best

Karen
April '14 - Shropshire Jack Mytton Way
Lindsey – just wanted to provide some feedback for the recent trip we arranged:

We had a great time at our recent stay in Shropshire – our hosts were so helpful and friendly that the 3 days we had there were fantastic. The horses they had were great and we were able to enjoy riding through the forest with the beautiful scenery. It rained a lot whilst we were there but that didn't dull any of the spirits. I was a relatively novice rider and didn't feel out of place at all – one of the best things was that they tailored the trails we did so that we could stay together as a group and if anything I think my riding improved throughout the time I was there.

The BBQ at the end of the day was also great and the conversation with Perk and Chia was always full of life and vibrancy. Both are very passionate about what they do and that fed through to their interaction with us. They have a wonderful home and we were able to enjoy the local restaurants as well as the great morning breakfasts Chia cooked!

I would highly recommend!

Jas
April '14 - Surrey
Hi Lindsey I wanted to say Ive spent three days riding in Surrey and staying in the B&B, both of which were fantastic. Wendy at the B&B was lovely and very helpful and the staff at the yard were really friendly and welcoming. I would highly recommend both.
Yours Debbie
April '14 - Wiltshire
Lindsey

Just to say thank you to you and your team for what turned out to be a stunning and lovely weekend away, all very efficient and professional throughout and I would use your company again without hesitation. I would be grateful if you could also forward this onto Angie for me, I'm not sure I have the time to describe in full the experience that she provides at her fantastic facility. Her endless energy for what she does knows no bounds ! her professional approach and flexibility in providing a riding experience for all is superb.
We will hopefully at some point in the near future return, that provided we have not made it onto the black list, all though if the hug on departure was anything to go by I think we were well received !
Angie, thank you.

Steve, Nicola and Grace.
April '14 - Portugal
Dear team,
There is simply too much to thank you for on this small page so... the highlights:
Swan - for showing me what's possible with clear communication
Zimbro - for sharing my banana in the morning
Kate - for the laughs, for always asking - 'right then, ready for a canter?' on the wonderful ride-outs!
Christian - for your constant checking in - 'you all right Susan?' & for believing my luggage would show up and for the gorgeous beach tour
Bev for delightful stories, constant encouragement & training, incredible hosting and sharing
I had high hopes and expectations when I booked this adventure in the cold Canada spring '13 - thanks to all of you for making them come true!
Susan - Canada
April '14 - East Devon
Hi Lindsey,

Just a quick email, to thank you so much for arranging, my riding holiday. I had a brilliant time, the hotel and stables were excellent, the staff at both really helpful, the horses were lovely and in excellent condition, the quality of the lessons & the hacks was brilliant. I thoroughly enjoyed every minute, the planning went perfectly, I shall definitely be back to book with you later on in the year.

Thank you so much,

Kind regards
Julie
April '14 - Malaga
Hi Lindsey
Back a week now & wondered if you wanted feedback. I did give detailed feedback & suggestions to Chris so this is a summary.

It was a very good week
Accom – perfect & luxurious as you said. Attention to detail in the décor & facilities were 1st class. The new disabled facilities would be a unique feature for a rider with a disability.

Horses – again top marks. You did need to be 'in charge' for faster paces, but it was lovely to ride responsive, forward-going, handsome horses. The stabling, yard maintenance & tack were all good too.

Lessons - Misty, Eddy & Flamenca made good schoolmasters for Antonio's challenging & excellent teaching. Made me realise I need to ditch my UK instructor!

Staff – Everyone was so friendly and keen to make things right. I've not been anywhere where there is so much flexibility.

Cost - The no single supplement was a huge plus as I wouldn't have gone w/o it.

Jane
March '14 - North Wales
I would urge anyone to try a riding holiday here as everything is well organised and the accommodation and location were superb. The riding school can cater for all levels of rider and offers a varied itinerary. I highly recommend it and would book through Equine Escapes again without hesitation.
March '14 - Portugal
Fab holiday fab people with stunning horses landscape and riding!
I have just returned from the most amazing holiday staying with Katharine and her lovely team of Claire and Natalie.
I was worried about travelling alone and going somewhere that no one I knew had been but as soon as Katharine fetched me from the airport I realised everything was going to be fine.
I got to ride some stunning safe responsive horses and learnt to do Spanish walk and passage.
Staying by the stables was lovely and walking through the orange groves to see the horses in their paddocks made me smile every day.
I had some lovely hacks with Natalie and a few great nights out too.
The riding was stunning and I have some videos of me riding in the arena and all you can hear are the birds singing.
Hacking through the river and having nice long rolling canters was soooo lovely.
The lessons from Katharine were really good and I have managed to work on a few of my faults and hopefully continue to improve on this at home with a few minor changes.
Katharine cooked some lovely meals for us and lunch was also lovely every day. As was the smell of the freshly baked bread every day.
I really enjoyed the beach ride it was stunning to be so close to the glorious ocean.
Everyone was so nice and supportive and encouraging.
Life was at a much slower pace than I was used to and I have come home feeling like I have had a month away but could easily have stayed a whole lot longer.
When I spoke to equestrian escapes before booking they said that most people say their only regret is not staying longer and I am soooo glad I stayed a whole week and still wish I could of stayed for longer.
Missing it sooooo much and would love to go back :-) Katherine
March '14 - Shropshire
Good morning Sarah

I just wanted to e mail about our weekend break

I just want to say what lovely people run your riding break in Shropshire. Our hosts made Katie and I feel very welcome and looked after us very well and we had a lovely time riding.

I would thoroughly recommend for anyone to ride there

Unfortunately the weather was not the best but we made the most of it

Many thanks for arranging everything

Kind regards

April
March '14 - Portugal
Hi Sarah,

I've been meaning to write for ages to thank you and the team for sending me on such a lovely riding holiday!

I went to Portugal, to the school just near Faro, late in 2012 and had an amazing time. You really are welcomed in as part of the family there and the teaching was incredible. I hadn't ridden in a very long time, so it was like learning from scratch, but learning from the very best. It was an extremely happy week and I'm very sorry I never wrote to thank you for arranging everything.

Hope 2014 is a successful year for you all!

Lizzie
November '13 - Cheshire
I would like to take this opportunity to feedback my thoughts on my recent 3 days in Cheshire.

The Bed and Breakfast.
The host deserve a medal/ award/certificate for being the most friendly landlady/land lords in the country.
Although I did not see much of Nick, I got the feeling of a great deal of thought on his part, had gone into making the place comfortable.
The breakfast. Well that was out of this world. I have only come across one place in recent memory which would surpass the choice. That being a hotel in Park Lane where bread and butter pudding is also served for breakfast. Having that choice of instant coffee was a great idea. Many people prefer instant these days.
Catherine was a very genial host who made my stay so good and pleasant.
Her customer service skills, even though there was some problems within the house hold, (the horse not being well and the dog missing) were great and worthy of another certificate.
Allowing me to wander around her livery yard and meet the horses was icing on a very big cake.
My only regret was not meeting the young lady who did the livery yard, I believe her name was Jenny.
It is a pity as she has the best smile I have seen for a long time. Her husband is a very lucky man.
She was very busy when I was there and I never disturb people when they are working so hard.
You may get the impression that I enjoyed my two nights there.
And you would be right.

The riding school.
If Carling made riding schools, this would be it.
The service was impeccable, the teaching clear, concise and easy to understand and the underlying humour was brilliant.
Humour is important in place like this as it shows that the staff are enjoying their jobs.
This may sound strange, but I got the impression from the horses that they were enjoying themselves.
When I started riding, there was someone who would now be called a horse whisper who showed me if a horse was happy. But that was some years ago.
I was impressed by the concern shown as to whether I was in pain as I have not ridden for 20 years and have a metal plate in my upper leg. The pain was fine and the plate never moved.
The Hacks were too short. I enjoyed them too much. I know I annoyed some fellow riders by not responding to their questions, as I was a "handsome male" on their hacks, it must have been infuriating for them. Thing is, being deaf in one ear, I could not hear them.
I could be a brilliant rider, but I need a great teacher. But it is a long way to come every week just to get taught. I will have to make do with a second rate school near where I live.

Anyway, pass my good wishes on to them and if I survive then next couple of months, I will do it again.
Best wishes
Allan.
October '13 - Luxury Algarve
I had a fantastic holiday, I could ride well schooled horses and had perfect instruction. The cottage was cosy and I had a good rest! Thank you, the atmosphere was very good...I hope I can come back. Anna
October '13 - Almeria
I would highly recommend this great value riding holiday in a lovely, unspoilt part of Spain. Excellent hosts, I stayed in the main house which is beautiful and the food was lovely. The horses are really nice and the views (riding up and down the mountains) are amazing. Ride as little or as much as you like; and you can ride different horses every day if you want.
October '13 - Portugal
Hi Sarah and Lindsey,

I just wanted to drop you a quick email and let you know that both my husband and I had a great holiday in Portugal. The accommodation was perfect and Katharine is the perfect hostess. She is a fantastic instructor and she taught me so much! We even managed to get my husband on a horse and thanks to Katharine's skills as an instructor he felt totally at ease.

Thank you for making the booking process so easy! I'm hoping to convince one of my friends to join me for a return holiday next spring. So I will hopefully be in touch with you soon again. :)

Kind regards,

Nina
September '13 - Wiltshire
Hi Lindsey

Just a quick note to say that Hatty and i enjoyed Angies horses. I do believe that we would have been bored with the riding school type. Annette accompanied us and Hatty was able to go hacking on a very well mannered pony that cantered nicely. Thank you , they were very knowledgeable and Hatty was kept safe but was encouraged to do the cantering that i hoped she would manage! Beautiful countryside and weather, please pass on our gratitude.

Kind Regards

Julie
September '13 - Wiltshire
Hi Lindsey and Louise

I just wanted to tell you that I had a brilliant time on my riding holiday in Wiltshire.

When I arrived I was very nervous as I am new to riding and have previously only had lessons in an indoor school but thanks to Angie, Hannah and Annette my confidence grew enormously - both on and around the horses. Angie made me feel so welcome in her home and I really appreciated the little touches like chocolate in my room - and the tea and cake breaks!

I left feeling very relaxed but also much more confident and invigorated.

Thank you for making this happen.

Best wishes,
Teresa.
August '13 - Luxury Algarve
I had a fabulous week, the horses are lovely and the tuition excellent. The cottage is well equipped and very peaceful. Thank you Pru & Julian for making it a perfect holiday, I enjoyed every moment here. SE

What more could we say other than it couldn't have been a better riding holiday! Fantastic facilities, tuition, cottage and best of all the staff and owners. We hope this is the first of many holidays.
B Family

August '13 - Shropshire
Hi Lindsey

Sorry about the delay in sending some feedback for our trip to Shropshire with yourselves.

I can honestly say that we had an amazing time. Our hosts were friendly and very accommodating, going above and beyond what we expected from home made cakes to great advise about the local area and places to visit. From a great breakfast and a delicious bbq we were set us up for the day.

The horses we amazing to and our hosts ensured that we were matched up well with horses that could accommodate our abilities to ensure that we had a fun, relaxed and enjoyable experience. The riding in itself was varied from woodland rides to village rides giving us a change to walk, trot and canter and a range of surroundings.

Overall I feel that its fair to say that the Shropshire break was a hidden gem in all forms and I would highly recommend it to anyone.

If you require any further information or photos then please just let me know.

Regards
Wendy
August '13 - Surrey
Dear Sara,

Excellent experience in Surrey! Impeccable attention & horses, I want to send very cordial and grateful greeting to my hosts at the stables, highly recommended!

Best Regards,
Silvina
August '13 - Ascot
Sarah, I wanted to take a moment to thank you and Lou for your helpful coordination about my trip to Ascot. It was a wonderful experience and I look forward to booking another trip with Equestrian Escapes in the future!

Kind regards,
Madeleine
August '13 - Malaga
Hi Lindsey,

I just wanted to email you to say that I had a great time in Spain – once I was there, I had wished I had booked for a week.

All of the staff were very friendly and helpful, in particular Derek, and also the instructors Tanya and Will, volunteer Sarah and of course, Diego the cook. I was very impressed with the accommodation and food, the staff and the brilliant care taken of the horses and dogs.

As I had booked this fairly last minute and have only been hacking out once a week recently, I wasn't sure that I was 'riding-fit' enough for the holiday. However, whilst getting a little 'hot' on the lessons, I did manage to keep up and have actually come back without any aches. I rode two of the 'ponies', Misty and Flamenca – as they were comfortable, forward going and my back was ok with them, I didn't take the opportunity to ride the other horses (although as my back was ok and I didn't have any aches afterwards, in hindsight I think I may have been ok on something bigger).

Thank you so much for your recommendation, it really was a dream holiday for me, horses, dogs, swimming and great food, accommodation, staff and company.

All the best

Karen x
July '13 - Luxury Algarve
A big thanks for a wonderful stay. The tuition was amazing, I will ride with confidence in the future. So beautiful and relaxing, thanks to all the staff for making the holiday so enjoyable. I so enjoyed the cottage, pool and the food.....especially the desserts! DA

Peaceful location, beautiful horses, excellent tuition and warm, friendly hospitality! Who could ask for more? Mary

The perfect holiday! Very good tuition, horses and food. Lots of learning during an amazing stay! S & A.

We have had a fantastic holiday. The cottage was perfect, immaculate and well equipped. We enjoyed both swimming and riding and thought the horses and staff were wonderful. We would love to come back! A,J, M & D

July '13 Barcelona
What an excellent location we loved the region. It's definitely an outdoors enthusiast paradise. Conveniently located within 1 hour distance of the coast, the French border and Barcelona. Girona is ~20 minutes away and it is a lovely city. Would definitely return to further explore this region. The quality of accommodation was excellent. Our hosts made us feel at home. The house is beautiful with lovely views and all modern amenities one could ask for. The horses are well trained and well behaved. The trails are beautiful and suited for all levels. The ride to the nearby small towns is fabulous and the food was delicious. A wonderful experience!
July '13 - Almeria
My daughter and I have just spent four wonderful days at your ranch in Almeria in Spain. My daughter experienced some wonderful riding whilst I relaxed by the pool as a non rider.
Everyone worked tirelessly to give us the holiday we had hoped for and their dedication to their horses and their beautiful family is commendable.
We have every intention of returning to this unique location where you can escape from the hectic pace of normal life and enjoy the unspoilt countryside and ride as much or as little as you want! We had a wonderful time.
June '13 - Almeria
The family in Almeria were very friendly. Tanya and Chris were very welcoming and made us feel at home. The horses were clearly very well looked after. Riding in the mountains was lovely and we had different options as to what time we could go, we also did some jumping and dressage. Jay and Erica were very accommodating and nothing was too much trouble. The overall riding experience was excellent and we would happily go again.

Thank you, Matthew
June '13 - Barcelona
Very impressed. One of us was an experienced rider and the other a novice (just 6 hours of riding ever!) so very impressed that they sized us both up very quickly and jocked us up on suitable horses. Going there, I was nervous that the horses would be 'robot-like' which certainly was not the case for some of them (Uruguay the stallion!!) which made it far more fun. The rides were very good especially the very last one with Rafa who took us galloping along, through rivers amongst some brilliant scenery. The stops for lunch very relaxed yet entertaining.
George
June '13 - Dordogne
While looking on the internet for new riding holidays we found Equestrian Escapes, who were offering this holiday, and as we were looking for a short break, riding somewhere in France this looked to be just what we wanted, as it is a relaxed riding holiday with some interesting time looking at the local sites .

We were met at Limoges airport by Richard and after just 45 minutes arrived at the farm , and introduced to the other riders who had just finished their stay ..
Gill had the tea and biscuits served at the picnic table , which went down well, then we were shown to our room which is spacious , with a lovely en-suite shower, the other bedroom having bath and shower. Then we were taken round to be introduced to all the horses. Our break consisted of 2 hours riding next day with some site seeing in the afternoon, then the next day a lovely ride to the lake where we picnicked (full day), with the 3rd day 3 hour ride stopping at another lake for coffee and biscuits. Again site seeing to a nearby chateau.

The horses are excellent and well behaved, we tacked up ourselves and off we went with Gill leading us out. The countryside is beautiful with nearly 40% woodland over undulating countryside. Lots of wild life, we were lucky enough to see pine martens. Good bit of walking , with a nice mix of trot and good canters, there is lots of off road riding and where you ride on road its very quiet with hardly any traffic.

Gill is also the cook and the meals (full board ) are excellent , especially the Quiche.
What makes a good riding holiday?? Well the weather is a start (we had good weather) good horses and tack, an excellent trail leader, and good food . This holiday has all those . Gill is an excellent trail leader, which is essential. I must also mention Richard as he was a very attentive host catering for our every need, wine glass filled , tea maker and of course the regular trip to the nearby bakery for fresh bread and croissants.

We have taken many riding holidays all over Europe , Morocco, and recently Zimbabwe, and this holiday is highly recommended. Thanks so much for a lovely riding holiday ( Our 17th one ) , we hope to return .

Roger and Sue KENT.
June '13 - Malaga
Dear Lindsey

I would like to send a big thankyou. My holiday to the Cortijo in Malaga was perfect. Just what we asked for perfect setting , delicious food, great riding and all the horses were very well looked after and perfectly behaved. I would recommend this holiday to anyone who will listen. We were all confident riders but i would recommend it to someone who wanted to learn to ride. Thanks again.
Andrea
June '13 - Brecon Beacons 1 week trail ride
Dear Lindsey,

Last week I did the Brecon Beacons trail ride. It was fantastic. Everyone involved with the stables were fabulous. The scenery breath taking and the accommodation good. I don't recall ever eating so well on holiday!

Regards,

Michelle
June '13 - North Devon
Dear Lindsey,

Thank you very much for organising our first horse riding holiday. We thoroughly enjoyed the riding in the beautiful field of North Devon. While I have some riding experience, my companion was a complete beginner and she was somewhat anxious; however, Teresa and her staff at the stable were superb and put her at ease straight away. The horses were well looked after and they were just so wonderful and majestic. The B&B you recommended was great too. The owner, Roger, could not do enough for us. The very comfortable bed and lovely breakfast was a bonus. We definitely would like to go to other places for more riding to appreciate the beauty of nature and the ever so lovely animals.
June '13 - Bournemouth
Hi Sarah & Lindsey,

Just letting you know I had a wonderful horsey time in Bournemouth, nice set up. The people that run the place are very friendly, Naomi in particular was great and took me on some super riding. We cantered and cantered great fun the views were awesome the weather was fab the sun had got its hat on !!! so to say. The beach ride was an evening ride and very pleasant too not much road riding so great time was had by all. I would recommend to anyone from beginners to experience if you want good scenery and reliable hacks out. Thanks for arranging it all.

Regards,

Denise
June '13 - Luxury Algarve
Fantastic four days, we loved it! Beautiful location, fabulous horses, brilliant riding school and the training was second to none. Thank you Pru and Julian, we had a wonderful time.....we will be back! L & C
Fabulous horses, people and hospitality! I could not have hoped for a better break in such a stunning location. Thank you, Faye
June '13 - Almeria
Dear Lindsey,

We got back from our holiday on Tuesday and I wanted to let you know that it was absolutely wonderful! I rode a number of different horses, all good, while my daughter fell in love with one pony and rode that every day. The rides were through spectacular scenery either at a steady walk or with long fast canters. We went out twice a day on some days and did different rides every time - incredible variety!

Our hosts could not have been kinder - nothing was too much trouble. The food was excellent home cooking and one evening we went to a local tapas bar.

When not riding we sat by the pool - it really was the perfect break. I can't recommend them highly enough. We will certainly be back!

Thanks again for your help with this,

Saskia
See the following link for more details about the riding holiday in Almeria - http://www.equestrian-escapes.com/Almeria/
May '13 - North Devon
This is the 3rd holiday we have booked with Equestrian Escapes and each has been a fantastic experience. The staff at Equestrian Escapes have always been extremely helpful and nothing is too much trouble. The company were recommended to me by a colleague and I have no hesitation in recommending them to any family who want to combine excellent riding with a well organised holiday.

Thank you, Lorraine
May '13 - North Devon
I just wanted to let you know how much we enjoyed our week riding in Devon. The horses were superb - very well-behaved and responsive - and our rides along the beach were the highlight of the week.

The village hotel that you arranged for us was excellent - the room was beautifully decorated and the breakfasts really set us up for the day.

Thank you again for arranging such an enjoyable week's riding in North Devon.
Elaine
May '13 - Tarifa
We had a fantastic time. The horses are really well looked after, the staff were superb.
Lovely natural way with the horses. Thank you. You made my 50th special. Julie XX
We had an amazing time- thank you so much! Lovely scenery, exhilarating riding, perfect horses! Kate & Emma

Fantastic. Everything I dreamed of! Great horses & brilliant instructor. Thank you so much Kim & Jane X
May '13 - Wiltshire
Dear Lindsey

Just wanted to give you some feedback following my amazing weekend with Angie in Wiltshire. The whole experience was fabulous. Everything, from the accomodation and hospitality to the quality of the horses was far, far better than I had imagined.

Whilst I ride regularly, I can get nervous riding horses I don't know. Before my trip I had the living daylights scared out of me by various people at my normal stables, with horror stories ranging from wild horses dumping people in bushes, old nags that hardly moved and huge groups on horses which follow a well trodden route without paying any heed to their rider. By the time I set off for Wiltshire I was practically welded to my body protector with images of myself riding a wild old nag which would set off at a gallop, without warning, and dump me on the floor in front of twenty other people! Much of this was probably because I didn't speak with you beforehand, this was a gift from my mother. Angie put my mind at rest within 10 seconds of arriving. The quality of Angie's horses is amazing, unlike anything I have ever ridden. Also, the fact that I went out on my own with an instructor meant I could do what I was comfortable doing and allowed me to (a) learn and (b) not embarrass myself. For me, the one to one/small group tuition is a major selling point.

Thanks for arranging such a wonderful break for me.

Kind Regards

Mairead
May '13 - Ascot
Dear Lindsey, thanks so much for organizing our weekend in Windsor. A fantastic 21st birthday for my daughter Hannah, one we will never forget. Horses were amazing and the Windsor Great Park ride was fantastic, a great bunch of people rode with us and the scenery was stunning. Well worth every penny! The stables were very busy but very professional and matched us with good horses who also looked after us. Thanks again, we will definitely do it again. Tina
May '13 - Almeria
Hi Lyndsey
I have just got back from the most amazing holiday at the rancho in Almeria. Our hosts Jay and Erica, Tanya and Chris were brilliant people and made my holiday very special, I want to tell others what a brilliant holiday destination Almeria is and I would happily go back another time.
thank you
Stacey
April '13 - Luxury Algarve
April 2013. A brilliant week of riding, excellent tuition from Pru and Luis, a team dedicated to giving their all and a terrific place to relax and chill! MM

April 2013. Beautiful location, gorgeous horses and so relaxing. Excellent tuition, we had a great time; thank you. S & J
April '13 - Algarve
The time I spent on the Algarve was so special. The scenery is beautiful and Katharine is a natural host. The stables are very secluded so it's a perfect escape and a great opportunity top explore the surrounding tracks and trails with hardly a car in sight. Riding out twice a day was bliss and one of the best things I have ever done and I was so sad to come home. I couldn't fault the trip! It was a privilege to immerse myself in daily life at the stables and I was made to feel so welcome. Thank you so much for a great adventure!
Anna
March '13 - Algarve
Just thought that I'd let you know that the holiday that my 2 friends and I went on last week with Katherine in the Algarve was absolutely fantastic! The horses were all really friendly and great for all abilities - I fell in love with one and wanted to bring him home!

Katherine was an excellent host and her cooking and baking skills are fantastic! The setting and the rides were also lovely.

To sum up, a great time had by all. I would highly recommend this holiday to anyone.

Thanks, Vicky
March '13 - Ascot
Hi Lindsey, thank you for all the arrangements. The trip was perfect and the stable guys were really great.

Vignesh
February '13 - Malaga
The best holiday we have ever been on. Accommodation, staff, horses,
riding all amazing. The lessons were of an amzing quality and my riding
improved greatly. If you want an unforgetable riding experience in
amazing surroundings with great people and food then this is the
holiday for you. Cant wait to go back! Roll on next Easter!
Ashley
February '13 - Algarve
Dear Equestrian Escapes, I just wanted to say a huge thank you for a lovely weekend away in the Algarve. This was a last minute booking and as a beginner rider I was unsure of what to expect. You made the booking process very easy, the accommodation in Portugal was perfect, Katharine made me feel so welcome in her home and it was lovely to stay on site with the horses. I learnt so much in such a short period of time, the combination of lessons and hacking was ideal and I can't wait to go back.

Thank you again
Laura
January '13 - Algarve
I had an amazing time and I must say this break totally exceeded all my expectations. Travelling alone it was lovely to get to stay in Katharine's house and enjoy home cooked dinner every night. Katharine is an amazing chef and super nice. I felt very welcome from the moment I arrived. Her house is conveniently just next to the stables so I also had a chance to help with the stable duties and spend time relaxing with the horses, as much as I liked. She is a brilliant instructor and has got a great selection of horses (Warmblood, Thoroughbred, Friesian, Lusitano etc and the cutest little Shetland ponies too! All great characters!) Even the cat (Magic) managed to melt my heart (…and I am not very fond of cats) I would highly recommend this holiday for any single traveller or anyone who appreciates private tuition and personal touch to get the best out of your riding holiday. The hacks were amazing, safe paths with great views, gallops and river crossings and it was lovely to try some new tricks (like Spanish walk) in the arena. This package was advertised as tailor-made and it really was that! I wish I had stayed longer! Laura
November '12 - Portugal
This has been a magical experience! Your friendly and welcoming hospitality has made me feel part of the family in the short time I have been here. Thank you for your encouragement and expertise in riding and horse care which I now feel I am becoming a real part of! I cannot wait to get back and show them my improvement. I am so grateful for the times you have taken me out in the area making my holiday as full and entertaining and as relaxing as it could be. I am sad to be leaving but hope to return again soon. The food has been exquisite, the horses beautiful and the people inspiring!
Many thanks for a prefect stay - Hannah Webster
November '12 - Malaga
I just wanted to write a review of my recent holiday in Andalucia.

Exceeded all my expectations. A really personal experience. The accommodation was spacious, comfortable and well decorated, with everything that I needed. The horses were superb and instruction to match - completely changed my attitude to riding. Food and wine were of great quality and plentiful. The Hartfields went out of their way to show us the local area including a superb trip to Cordoba to the Spanish riding school and a very sociable tapas experience afterwards. They couldn't do enough to ensure an enjoyable stay. As a lone traveller it was ideal - plenty of opportunity for company without any hassle. Cannot recommend highly enough.

Hope this is ok - if it sounds gushing that is because I had an amazing time.
Thanks
Andi
November '12 - Malaga
Hi Lindsey,

Just wanted to say what an amazon time I had in Malaga, I couldn't have asked for anything more from them, the horses & the venue. The weather was awful but they kept us entertained & couldn't have done anymore to make us feel so welcome.

I honestly thought I was a good rider until I went there & they taught me how I should be riding to get the most out of the horse & for them to enjoy themselves too. Such a high quality of horses which blew me away.

It was my birthday that week & we all went to watch a dressage show & have tapas afterwards which made it v special indeed.

Honesty cannot rate Chris & Paul highly enough & recommend anyone to go and visit, you won't be disappointed.

Thanks
Caroline
October '12 - Algarve Portugal
To Bev and the team. Thank you so much for making us Scottish lassies so welcome. I have had a wonderful holiday and achieved what I came to do which was to become a better rider. The level of tuition has been exceptional and I am looking forward to trying everything I have learnt on my own horse.
The horses have been fab and a joy to ride. I have enjoyed meeting all the staff who have been very helpful. I will miss the dogs company. The package has just been ideal with the perfect balance between riding and site seeing. I am sure our paths will cross again and I thourghly look forward to that day. You must brave the Scottish weather some day and come and see us all in Scotland.
Thanks for the holiday of heaven! All the best
Rachael
October '12 - Dordogne
We enjoyed a truely wonderful week in this rural idylic country home complete with cat, dogs and beautiful horses. Our hosts did everything to make us feel welcome. The room and food were superb. As a novice rider I was apprehensive of a riding holiday, but Gill (and the horse, Emir) are great teachers and I feel that my riding technique and confidence have really improved. The surrounding countryside was great to explore on foot and it would be very difficult to miss seeing the wildlife. I would strongly recommend this holiday to both riders and non-riders. We had a great time and were very sorry to leave.
Thank you we look forward to returning soon!
Sue L
October '12 - Cheshire
Holiday Destination - Amazing!!!! Excellent hotel that couldn't do enough for us and one of the best stables I have every been to. Superb one-to-one attention from instructors who were really knowledgable and a really personalised service thanks to a really useful, friendly (and subtle!) assessment conversation. The yard had a fab selection of steeds that challenged us during lessons but also looked after us out hacking (not a frequent hacker) and on the farm ride, which was one of the best three hours of my whole life. The quality of riding was 5 star. I felt like I learnt more than I ever could have done in three days and have gained shed loads of confidence.
I picked this holiday because I wanted to perfect my technical skills and thought that this choice catered for that with a bit of luxury thrown in. As it happens, it was more than that! I have developed a better posture as well as increasing my confidence and ambition to go further. Horses, instructors, hotel, staff, location... everything was beyond my expectations. This was the best £400 I have ever spent. Fact.

Thank you
Gemma
October '12 - Barcelona
Rafa was fantastic, great horseman very good company and wonderful horses! Highly recommended.
Nicole
October '12 - Cheshire
Arranging my horse riding holiday through Equestrian Escapes was so easy, the booking staff were so helpful and accommodating and the holiday itself was first class. The hotel staffs were so friendly and the stables were only a 5min walk round the corner from the hotel. The quality of horses and riding was also outstanding. My riding instructor Lauren was amazing, she taught me so much in the short space of time I was there and the horse I rode all weekend, Red, was wonderful and took very good care of me. My overall experience was first class; I would gladly go on the exact same holiday again. I look forward to returning.
Audrey
October '12 - Malaga
We had a fantastic holiday at the Cortijo in Malaga. We were made very welcome and felt completely at home and very comfortable from the minute we arrived. The Cortijo is in a superb location just outside Antequera and has been beautifully restored by the owners. The riding facilities are excellent and we enjoyed a mixture of very high quality lessons and lovely hacks out into the stunning countryside. They have a good variety of horses to ride and much care was taken to match us with the right horse for our ability and temperament. Chris and Paul are fantastic hosts and provided us with lovely food and drink and took us to local bars and markets. All the staff were incredibly friendly and good at their jobs and we are grateful to them all for ensuring that we had a really good break.
October '12 - North Devon
Dear Lindsey

Just wanted to let you know we had a fab week in Devon. Teresa and her team were great, very professional, made us feel really welcome and we had excellent tuition. We fell in love with all the horses who also took great care of us.

Thanks for all your help.

Nicola
October '12 - Berkshire
Dear Lindsey,
I just want to say thank you for your help, we've had a lovely weekend in Berkshire. We were well looked after and the house is nice and the horses were great and we were met by professional and really lovely people. We are very satisfied.
Again thank you and we look forward to going there again.
Kind regards
Manuela Vintilescu
October '12 - North Wales
Hi Lindsey
Just thought I would give you some feedback from the weekend in North Wales. Firstly the weather could not have been better, so lucky. The self catering accommodation was excellent and so convenient to the town and riding school. The two hacks were fantastic, especially the time spent on the beach where we got the chance to gallop. The service and enthusiasm of the riding school was great.
Hope to do another trip soon. Scott
October '12 - Cheshire
Hi Lindsey, just to say thank you and your team for organising a fantastic weekend for us. The spa hotel was lovely and the riding was amazing. We will be booking next year.
Kind Regards
Sarah
September '12 - Portugal
What a fabulous break - excellent riding, great company and hospitality - so relaxing and interesting. Can't imagine anything better. Special thanks to Bev for top class professional training and to Christian for being so helpful and friendly. Not least the fantastic horses.
Austin
September '12 - Wiltshire
Stayed in Wiltshire in June at Angie's cottage and had an amazing time. She is a wonderful host and she is the most amazing person I have had the privilege to meet. Have stayed in hotels all over Britain and have never had such a warm welcome and service is second to none. As for the horses they are amazing and your rides are geared to your ability and what you want out of the holiday. If you want 5* exclusive without the over the top price tag then this is for you. This is the first time ever I have booked to go back to the same place, in fact I booked while I was there.
September '12 - North Devon
We were delighted with every aspect of the holiday. The booking arrangements were handled efficiently. The B & B was excellent and our host Roger went out of his way to make sure we were extremely welcome. The resort was brilliant.

The riding was good. I was unfortunately unable to ride on the beach but my companions had a brilliant ride.

All in all it was a very successful trip.

Thank you.

Elaine
September '12 - Barcelona
We went to Barcelona in mid-September. The old farm house we stayed in was beautiful. The owners were away but Tom who was looking after us did a good job.
The horses and the riding at Hipica Equinatur were fantastic. Beautiful, well-trained, forward-going horses and some spectacular scenery to ride through. Each ride was different, a nice mix of flat plains, rivers and mountains, and also a mix of walk, trot and canter – and the occasional flat-out gallop!
Outside of riding times, the lake at nearby Banyoles is well worth a visit, as is the ancient fortified town of Besalu.
July '12 - Jerez
Sarah created a great holiday for me based on my interests and needs. I was able to really do what I was interested in. The hotel was excellent! It offered more luxury than what I needed. The quality of riding was excellent! This was the area I was nervous about but Alfonso and the horses were of superior quality on every level. The lessons offered experiences and learning, the hacks were in stunning surrounds and I felt safe riding all of the horses I rode. It was also relaxed and casual as well.
Laura R
July '12 - Wiltshire
Hi, just wanted to say what a wonderful riding experience we have just had with Angie and Hannah in tollard royal. What beautiful horses, wonderful people and stunning countryside. Paul and I came home so relaxed and we are still buzzing about our experience.
Sarah
June '12 - Cheshire
Frimp our host at the B&B is a lovely lady, very welcoming and friendly. We loved our stay at her very comfortable home. Very yummy breakfasts!!!! We had a fantastic time, our horses were superb. Mia and I had a brilliant time – so much so we wanted to move up to Cheshire!! The people were lovely and very accommodating. The horses were well suited to our ability.
Zara and Mia
June '12 - Saumur
Saumur is a beautiful town, easy to get to from Paris, big enough to have all necessary amenities and a range of wonderful restaurants, yet small enough to be intimate and picturesque. The horses picked for the riders were perfect, the school is neat and clean with the horses obviously loved, the routes chosen beautiful, absolutely perfect and great value for money. Overall Experience – 10 out of 10.
Marcia
June '12 - Cheshire
Just wanted to say that we came back from a weekend in Cheshire today and it has been the best weekend. The B&B was amazing and our room had a lovely view of their stables. The riding was brilliant and we rode some fantastic horses through some beautiful scenery. Thank you so much! xx

Ashley
June '12 - Algarve
The stables were lovely and in a very nice setting. All the people at the stables were exceptionally friendly and very kind and helpful and I believe went just that bit extra to ensure we had a good experience.
The owner is a superb teacher and horsewoman. After an assessment she matches you to the right horse / pony for your hacks out and lessons (usually on different animals), all designed to improve your seat and rider effectiveness whilst ensuring you enjoy your stay. For the amount of riding we would be doing during the week she took great care to ensure that we didn't get saddle sore by providing gel saddle savers for us - these certainly helped. We spent a bit of time working on pads rather than saddles to develop flexibility which helped with the more advanced movements we did later in the week. Bev also spent time with us doing exercises on the ground to further develop feel and how the horses work which was great fun and very enlightening. We watched informative videos too! I feel I learnt so much in one week!
Christian, the stable manager goes out of his way to make you feel welcomed and comfortable around the horses and makes sure you enjoy the experience too.
The weather was exceptionally hot so we rode out early and then later in the day again when cooler, these times changed per day depending on the heat and our plans for lessons and hacks.
The hacking was very varied with many different rides - we certainly never did the same one twice. Our rides were of different lengths from 1 hour to 2 1/2 hours. We rode through the pine woods which were lovely and cool with wonderful scents of pine, thyme and curry (from the curry plants). We popped over small jumps and had plenty of trots and canters through the trees. We rode through the orange groves, past fig trees and avocado trees which was very interesting. We rode along the beach and along the tracks across the lagoons again very interesting from the bird watching point of view. The road work was limited but Christian took us to see the multi million euro houses of the rich which was like being in Beverly Hills on one ride - then to the beach for a lovely canter on the sands.
The horses and ponies are superb - exceptionally well mannered, polite and obedient. I would go so far as to say most are totally unflappable. They suit all abilities from the complete beginner to the more advanced and capable.
The accommodation is very comfortable and clean. You don't spend a lot of time in your room except to sleep! The food is wonderful and you can have the full Portugese experience if you want too. They serve the most delicious Portugese dishes. We went out for a Portugese fish banquet one evening and then we had sunday brunch at a local coffee bar - the cakes are definately recommended! Christian was more than happy to drop us off at the Spa for a swim or down by the lagoons for walks and would then collect us later on - nothing seemed to be too much trouble for him.
Breakfast was taken on the patio after morning rides around 10.30 -11.00 am so was a brunch really and Adrianne organised fresh orange juice (from her own orange trees), local produce like cheese, hams, pates and wonderful bread. Do not expect to loose weight whilst out there! We were able to use the washing machine too which was a real help as you go through clothes very quickly due to the heat.
Everyone went out of their way to ensure we had a really good holiday. We cannot praise them enough!
We would both recommend them to anyone and most certainly plan to return ourselves.
You don't need a car - taxi too and from the airport is fine and very convienient - around 25 Euros each way for the taxi! So I thiought this was very cheap.
Sarah, thank you for organising such a fantastic holiday for us both.
Georgina
June '12 - Malaga
I had a fantastic time in Antequera it was a perfect mix of relaxation and action packed! The riding was the most scenic I have ever done and I have fallen in love with Andalucian horses! The staff were very welcoming and made sure that I had a brilliant time organising an exciting and diverse itinerary. I have never eaten so well - the food was fantastic and I got to try lots of Spanish tapas. It was an amazing few days and a great way to explore an area of Spain which is so beautiful and unspilt. I did not want to leave, it was like a big family and I will definitely come again! Thank you! Jessica
May '12 - Italy
Just to let you know what a fantastic holiday we had at the Castle in Italy. My daughter Beccy Somerton arranged it and we were there from 24th – 27th May.

The horses were super – well schooled, sensible without being plods and a joy to ride. The staff were so friendly we felt we were saying goodbye to family when we left!! All in all a really lovely holiday in gorgeous surroundings and we wish we were still there!!

Many thanks,

Sue
May '12 - Cheshire Dressage
'A Cheshire riding /dressage break for a Christmas present turned out to be a revelation. Over 3 days I felt bad old riding habits overturned into the beginning of a thoughtful and logical technique brilliantly and patiently explained to me by a truly top class instructor and because she worked me so hard I ached but recovered in luxury at one of the best B&Bs I have ever stayed in.'
May '12 - Epona
This holiday was absolutely brilliant. The balance is just right with the mix of trails and dressage plus it is a bonus to be able to go to the beach where no one else can ride. The non-riding elements which are also planned during the week are brilliant as well. It became apparent early on that the family know everyone in the area so where we went for dinner in Carmona and Sevilla and the Flamenco evening you are so well looked after as Fernando has such a good relationship with people. You really do get an authentic experience not a touristy one so the restaurants and Flamenco is where the locals go which was so enjoyable.

The trip to Jerez was just incredible, that was one of the things that made me decide on this holiday as it was part of it. Absolutely fantastic place and the show was amazing, we had front row seats.

The welcome and hospitality at Epona is second to none. Jane does a tremendous job cooking so the food was excellent and of a really good variety, Vivi and Caty are incredible horsewomen and Fernando is such a character and a pleasure to be around. You are extremely well looked after whilst at Epona.

The horses are very well looked after and all of them so well-mannered, one of the most surprising aspects was how incredibly docile all of the stallions were, after lessons we would help with the horses or chat to the girls and they would be next to each other not even batting an eye at each other yet to watch them being ridden they are so powerful and athletic!
Anna and Matt
May '12 - Barcelona
Hello!

I just wanted to say THANK YOU for setting up our riding holiday to Gerona! My husband and I had an amazing time. Staying at the Country House Hotel was perfect and our hosts were equally as amazing! Our instructor and the horses were all perfect. I enjoyed taking a jumping lesson and the trail rides were beautiful. All-in-all, we cannot wait to book another holiday with you!! :o)

Thanks again!

Best-

Regina F
April '12 -North Devon
Excellent - as two experienced riders I was a little nervous it would be a bit tame but as we were the only two in the group we were able to ride to our standard. The beach ride was superb. Lovely quality time with my daughter.
Helen C
April '12 - Cheshire
Great riding holiday wife and daughter had a thoroughly good time and would recommend the venue and stables as excellent!
April '12 - Brecon Beacons
Fantastic. A perfect girls short stay. The stables were very accommodating for our ability and made sure that our experience was a great one!
Mo and Emma
April '12 - Cheshire
Hi Lindsey-my daughter, Lindsay Bouscaren, and I are in the Edinburgh airport waiting for our flight home and I just wanted to let you know that we had the nicest time in Cheshire!! Frimp and her husband took such good care of us and the riding was fabulous. We took lessons from Chris and Laura and Lauren and Briany took us out on hacks and the xc farm ride and each were delightful. I hadn't ridden in a while so the lessons were a great refresher but for me the absolute highlight of my stay was the xc farm ride-I could barely walk when I got off the horse but I am still reveling in how much fun it was!!
Thank you also for getting us the train info which was very helpful and our trip was smooth
Many thanks and we will definitely use Equestrian Escapes again!!
Helen Hunt Bouscaren
March '12 - Cheshire
We have just got back from our Easter trip to Cheshire as mother and daughter. My 10 year old daughter said it was the best holiday she has ever been on and I quite agree. It is the first time in 20 years that I actually feel that I have progressed and it has ignited a passion in us both that I hope will last!

Thank you

Wendy
March '12 - Cheshire
Riding in Cheshire was a fantastic experience. Everything from the 'very English' B&B to the horse riding itself was amazing. This is such a stunning part of the UK and it was amazing to see some of this on horseback. The staff at the riding centre were so friendly and welcoming - the instructors especially were patient, knowledgeable and gave you confidence. The horses were stunning and are very well looked after. The whole experience was beyond my expectations and I'd without doubt recommend Equestrian Escapes in the future. I'm already thinking where to go next…!

Thank you
March '12 - Beach Ride Pembroke
We have just come back from our break in Wales riding on the beach and just want to say how wonderful it was. The stables were so welcoming and helpful with our riding. The accomodation was lovely and the rides were fantastic. Many thanks for a great holiday.
February '12 - Wiltshire
Riding was fantastic – a truly unique experience. The landscape was absolutely gorgeous and Angie's horses were magnificent. Both Angie & her groom Hannah were a joy to be with and fantastic hosts.
Danielle R
February '12 - Shropshire
Just to let you know the holiday was excellent. The people were lovely, accommodation was great, and the riding fabulous. I would recommend the holiday to all my friends .
Elaine Kingston
February '12 - Cheshire
Our first riding holiday as a couple and with Equestrian Escapes, we thoroughly enjoyed the holiday. The people were extremely friendly and helpful. Thank you. Linda H
February '12 - Tarifa
Holiday Destination – Tarifa Spain

Handling of Booking – Excellent – exactly as described

Quality of Accommodation – very good – fantastic location

Quality of Riding – Brilliant – the best kept horses and stables I have ever seen. Horses absolutely beautiful and standard and quality of treks was breathtaking

Overall Experience – It is truly one of the best holidays I have ever had. We were blessed with very good weather – but the whole experience was beyond expectations. The horses and stables were the best I have ever seen. We hired a car and there was a lot to see and visit in the local area. The hotel was located on the beachfront and was very beautiful. The food was excellent too. I cannot recommend this trip highly enough.
Sarah
February '12 - Simply the best - Jerez
Hi Lindsey,

This is just a note to thank you for organising a really good week for us in Jerez. We had a wonderful time.

All your arrangements worked smoothly. The hotel is charming and well situated. We were pleased to discover that it even has its own parking.

As for the riding, we could not have asked for a better experience. Alcantara is an excellent facility and has a wide selection of interesting horses to ride. Alfonso went out of his way to suggest a flexible program and to give us personal instruction at the right level as well as some good pointers for schooling our own horses. He also guided us on great hacking – regularly refreshed with abundant quantities of his family's sherry and delicious tapas!

We shall be back!

With best wishes

Sue and Ken
February '12 - Ascot
Hi Lindsey!
Just a quick email to say a big thank you for your help in arranging my 40th birthday weekend. Everything ran very smoothly and everyone had a lovely time. The hotel were exceptionally helpful!
Cath
February '12 - Madrid
I have gone on a few other equestrian holidays , and by far this is one of the best all around trips I have ever gone on.
The horses, people and country were extraordinary and I would still be there if I didn't have to work to make money to return!!!
Thank you Mariano and Spain!! And Equestrian Escapes for turning me on to this magical non-turisty place..

Thank you
Lisa
February '12 - Cheshire
Hi I just wanted to write and say I had a fantastic holiday – the hotel was good and the riding was amazing. Everyone was really friendly and especially Chris, my instructor- she was great. I owned my own horse for many years but can honestly say these 3 days were some of the best riding I've ever had. I'm now thinking about what to book next...Barry
January '12 - Cheshire
"as a non-rider looking to book a weekend for my partner who rides I was in the dark as to what I should book and where but Equestrian Escapes made the whole process easy and the location/riding was first class. I would recommend them to all…"
January '12 - Wiltshire
All in all, a wonderful experience. Thanks to Angie and a good hug to Nikita from Esther!
January '12 - Cheshire
All,

Just to say that we had an excellent time this weekend in Cheshire, the Country House Hotel was excellent and the staff their very helpful and friendly. Nicola had a great lesson and a fun hack and really enjoyed the riding, the stables themselves were brilliant and the staff knowledgeable and friendly – I am sure we'll be looking to come back again before too long (especially if Nicola has her way). If you could pass on our thanks to all the staff at the hotel and the stables they were all excellent and a credit to both organisations.

Adrian
January '12 Cheshire
Hi Louise – just to say I had a really lovely time in Cheshire – the staff were very friendly and patient with my attempts at jumping. I had a great time on Red and Timmy. Cheers Jo
January '12 - Wiltshire
Hi,
I just wanted to say how much I enjoyed my time with Angie this weekend. The hacks were great and horses are amazing, I've come home feeling totally refreshed and relaxed.
Esther
December '11 - Brecon Beacons
The B&B in Brecon was really comfortable and welcoming and they had really good links to the stables making the whole holiday really easy and relaxing. The horses were fast but safe. I had a great time, I've recommended the guest house to non-horsy friends and family and I'm looking forward to my next visit.
December '11 - Surrey
I had a great week of riding. The horses were really good, and the staff was a very friendly team with some escape to the pub. Thanks to Ian and all the team. The B & B offers very comfortable and clean place to stay. It was my first experience in a B&B and I just want to recommend it.
December '11 - Wiltshire
Hi Lindsey,
May I take the time to say what a fantastic time I have just had in Wiltshire with Angie. Angie is such a lovely lady and the horse's are top quality, the scenary during the hacks out is wonderfull,
regards
Peter
December '11 - Brecon
Hi Lindsay
Just wanted to let you know I had a really great break in Brecon and I'm very grateful that you could find me somewhere out of season. The Guest house was lovely and the riding stable was really good and the girls who took me out riding were really good and were very kind and let me choose the rides and speeds etc.
thanks
Claire
November '11 - Wiltshire
Tollard Royal is a beautiful area! Angie could not have made me more welcome. I felt at home and nothing was too much trouble. I will undoubtedly go back again sometime.
From Jeannie
November '11 - Wiltshire
Hi Lindsey
I am sending you a few photos from our riding holiday in Wiltshire with Angie.�We had a fabulous time, enjoyed every minute. The horses are fantastic, accommodation superb in Angies Cottage (she is a great cook), weather was also good - from fog to beautiful sunshine. We had a deliciuos cream tea at the local farm shop- yammi... and after our day ride both Wendy and I were were relaxed and chilled out :-) ��Thanks for organizing this great holiday.
Have a good day,â?¨
Barbara
October '11 - Surrey
All standards of riding are definitely catered for on the holiday my friend and I went on. Bed and Breakfast accommodation and riding were both superb! In the current economic climate it was refreshing to find this value for money.
Wendy
October '11 - Wiltshire
Thanks.
We had a great time - please pass our thanks to Angie as we forgot to write in her visitors book.
She really looked after us well and it is a beautiful place.
The treatments at holistic therapy suite and dinners at the pub were also excellent.
We'll book again.
Best wishes,
Cynthia.
October '11 - Jerez
Hi Lindsey
Just a note to thank you for all your help over arranging and then re-arranging our holiday. You were efficient and kind which I much appreciated.

We had a great time and enjoyed both the hotel and riding establishment so Sarah's assessment of what would work for a riding daughter and tired mother was spot on – my thanks to her too.

Pru
October '11 - N Devon
We had a fabulous weekend, riding on 3 days. The beach ride was just wonderful, despite it being rather wet and very windy. The hotel was delightful and we could not have been made more welcome. Thanks!
October '11 - Cheshire
Dear Equestrian Escapes,

I'm just writing to say that I had a wonderful 3 day break in Cheshire last week, with tuition at the riding centre. What a great yard it is. All the staff were really welcoming and the standard of the tuition was really excellent. Chris had the measure of my numerous faults in a very short space of time and over the three days I felt a real improvement, and returned to my own horse with more confidence and a lot of things to practice. The horses which they chose for me to ride were just right and schooled to a very high standard.
I had some very peaceful sleep at the B and B, and as the yard staff told me, the cooked breakfasts were indeed delicious.

Thank you very much.
I will be back, and next time with my friends.

Best wishes
Alison
October '11 - Wiltshire
HI Lindsey,
Have just come back and what can I say. It was "A" * * * * * * * * + + ++ + (that could look rude). It means "A" star plus plus plus!! and I really did not want to come home. Thank you so much for organising it and no doubt will speak again.
Best wishes
Sue
September '11 - Saumur
We had an amazing time in Saumur. Great riding with really thoughtful lessons and lovely well looked after horses. The accommodation was great, charming and close to the centre of town. Lindsey and Sarah did a great job of organising a wonderful trip.

Emma and Arabella
September '11 -Cheshire
We were really well looked after with quality horses, friendly and knowledgeable staff and tuition. It was just superb.
Caroline
September '11 - Tuscany
Excellent weekend with very friendly staff that made us feel very welcome! Excellent standard of horses & beautiful rides through the Tuscan countryside. Wish we could have stayed for longer! We stayed in the lodge looking out over the gardens and the pool which we had to ourselves throughout the stay. We were lucky enough to be invited up to the castle by the count & countess to join the wedding party on the Saturday night – such a great experience. Already thinking about next year!
Helen
September '11 - North Wales
Amazing, large selection of horses & ponies, staff worked hard to find a suitable mount, and checked we were happy before setting off and also made a big effort to ensure that our holiday was the best it could be, tailoring the rides & lessons to our individual wants and needs, and keeping us separate from other people, such as regular lessons, and also making sure that our preferred horse was available for us all weekend if we wished. Also, the beach ride on the final day was one of the best rides we have ever been on! The overall experience was brilliant, would definitely go again.
Ellen
September '11 - Shropshire
Simply the best holiday ever, had an incredible time, will definitely go back! We absolutely loved our stay!

Thank you so much!

Best regards,
Gosia
September '11 - Barcelona
I love horse riding and couldn't think of any better way to spend some time in Spain and learn a bit about Spanish culture. At the stables, Rafa, Nuria and Silvia made my riding holiday really wonderful and challenging. They have wonderful horses of all sizes and types and are very warm and welcoming.
My stay was also perfect with Linda in the apartment, an amazing cook and wonderful to share stories with after a long day of riding.
Thanks to all for such a great experience.
Ayesha
September '11 - North Devon
Our holiday destination was fantastic! Beautiful scenery and lovely beaches. Quite stunning. The Village Hotel was very good. High standard of room. Good breakfast and loved the themed 1950's/1960's dining area. Great fun! Our hosts were very friendly and helpful.

The quality of the riding was superb! Well organised and run. I felt we were in safe hands and the horses were lovely.

The overall experience was wonderful!!!! We all had a brilliant time. Everything went as planned and it worked out better than we had expected.
Sarah
September '11 - Horses, wine and flamenco
Hi Sarah

Eventually!!! I have just sent an sms to Alfonso Lopez on his mobile phone thanking him so much for a most fantastic riding experience on his grand, sensitive and well-educated horses!!! Maria and I enjoyed every minute of our three dressage lessons under Alfonso's skilled supervision! The horses, the riding, Alfonso himself (so kind and humble), the stables, the staff, the finca, the fascinating landscape made it The Ultimate Event during our stay!
Maria's and my expectations were fully met - and beyond!! (Trying) to do a piroutte in canter on the centre line with the reins in one hand sitting in a Spanish saddle was one for example! The passage, the piaffe and the Spanish walk on Impostor was another! What a magnificent horse!!
Kerstiz
September '11 - Simply the best!
We stayed in two hotels….one in the centre of Jerez was great for ease of walking into Jerez, close to restaurants and walking distance to a number of organised visits. The boutique hotel close to Alfonso's stables was superb. We absolutely loved the ambience, décor, service etc. Would love to stay there again as we only had the one night. The riding was brilliant! The level and variety was just right. As we are experienced riders I enjoyed that we both got good horses that actually had a bit of spirit! Alfonso was excellent, he has great horses, great facility and took us on some excellent rides in beautiful countryside.

Claire
September '11 - Saumur
The horse riding was superb, professional even for the novice rider. We would recommend Aurora to anyone - Fab! Very good service from the equestrian staff and very helpful when booking. Highlights were the riding. Cadre noir trip. Samur good location something for everyone would definitely go back. Would recommend this experience too fellow riders.
Pat, Mike and Rebecca
September '11 -Skipton
We stayed in a beautiful bed and breakfast in a stunning location and the landlady was warm and friendly. It had a relaxed atmosphere and they were very accommodating, it was a pleasure to stay there. The riding centre was excellent, the staff were patient and great teachers. We found them informative and welcoming and would love to visit the stables again. Our overall experience was absolutely fantastic, we cannot complain about anything! We had a wonderful time and intend to book another holiday in the future. The handling was efficient and straight forward and we would like to thank you for such a great experience.
Emma
August '11 - North Devon
Very positive. As someone going through a stressful time at home, this break was much needed and proved very positive. The booking process went really well, and Equestrian Escapes were very helpful in accommodating a single traveller at fairly short notice. My host family was lovely and I can't recommend them enough. I had a thoroughly enjoyable time and made lots of great memories!
August '11 - Brecon Beacons
Handling of Booking – Excellent. I felt assured that you understood my requirements and I had confidence that you actually knew the people you were sending us to ride with.

Quality of Accommodation – Excellent. A really friendly couple in a lovely setting. The accommodation is in keeping with the style of the house which is a beautifully restored old Mill House. The village pub which is one of 2 in the village and is literally a minutes walk away was friendly and the food was nice too.

Quality of Riding – Absolutely brilliant. People make all the difference, and the team there are amazing. Really helpful, friendly, informative. I was a first time rider and my Daughter is an experienced rider. They managed to accommodate us both. Honestly, I can't say enough about the people at the riding school they made a great experience even better. The location is beautiful and the views whilst riding were literally breathtaking.

Overall Experience - Awesome ! I love to be pleasantly surprised and on this trip I really was!
Aug '11 - Cheshire
I had a superb "escape". The accommodation at the B&B was lovely and it was a short drive to the riding centre which is directly next to the Delamere Loop - so offers plenty of riding opportunties. The hacks aren't to be missed. The whole holiday was well organised and thoroughly enjoyable. I would definitely book again and am already saving up for next year!
Aug' 11 - Cheshire
A professional service from Equestrian Escapes and the most amazing horses and ponies offered in Cheshire. All riding abilities covered and expectations exceeded with the level of instruction received from the schooling sessions and sheer exhilaration of the numerous forest rides encountered on the hacking sessions. An experience that must be repeated. Accommodation on site as share the same grounds so it was a very short walk to the stables where a warm welcome was always received
Aug '11 - Swaledale
I have just returned from Swaledale and I wanted to let you know what an excellent holiday it was! Your team were really helpful in the office, the B&B was great, nothing was too much trouble, tea cakes on arrival very yummy
Jane and the horses were brilliant the scenery was fantastic. All in all a truely superb experience that could not be bettered!
Julie
Aug '11 - Cheshire
Good morning Lindsey

I wanted to express our sincere thanks for arranging our first class riding holiday in Cheshire. The horses were just second to none and as an advanced rider I so appreciated the level of both horse and instruction. I could of ridden there all day long and got so much out of it. Each member of staff we encountered was so friendly and accommodating. Amelia was thoroughly taken care of with a show pony for the schooling and then a retired working hunter pony for the hacking. Please do pass on my thanks to your colleagues and those at the stables - this is one experience we will definitely be repeating.

From two ecstatically 'happy horsey holidayer's - Sarah-Louise & Amelia.
Aug '11 - Brecon
We booked last minute to stay in Brecon, Equestrian Escapes were fantastic ,very easy and they didn't stop looking until they found me accommodation.

The B&B was very nice, the full engilsh breakfest in the morning is plenty for a hard day riding. The quality of the riding was phenomenal, horses for everybody. The routes for experienced riders are incredible, some parts not easy, but if you ride well are fantastic. The people at the stables are very good too.

This ride is definitely something you have to do once in your life. My daughter and I enjoyed every minute of it.

Juan & Gabriella
Aug '11 - Portugal
Dear Sarah and Lindsey,

I thought I would email you just to say that Hayley and I had the most wonderful holiday and experience this week riding Lusitano horses in Portugal.

The location, horses, riding, facilities, hospitality and food together with the expert tuition and guidance, were truly superb and were very much appreciated by both myself and Hayley. It was such a privilege to ride such beautiful horses and to learn so much from them and from the instructor; he had such patience and understanding. To complete the holiday, the CD and photographs provided at the end of our stay was really wonderful and all of the staff were extremely friendly and kind.

We have taken so much away from this trip and sincerely hope to return next year if at all possible.
With many, many thanks for organising such a brilliant holiday for us.

Karen (and Hayley)
Aug '11 - Epona, Spain
I went to EPONA in August, Lindsey handled my booking very efficiently, the accommodation was very good. I particularly enjoyed riding through olive groves, fields of sunflowers and on the beach (a life long ambition!) and I learnt some new dressage moves!
The overall experience was fantastic - the owners were very friendly and helpful. The horses were all well cared for and well trained, I would definitely recommend this holiday!
Claudia
Aug '11 - South Wales
We had an absolutely brilliant time in Wales. The accommodation was first class.The people were very friendly and easy going.The riding was brilliant.We had not ridden for over a year and I had lost a lot of confidence but by the end of the week my confidence was restored and I even went over the cross country jumps. Every type of rider is well catered for and the horses are honest and hard working. I would say that it is the best riding holiday we have been on for the quality of rides and horses and we have been on quite a few. The scenery is beautiful and the private rides through the woods excellent.The beach rides too were fantastic.We were very well looked after at all times by friendly and helpful staff.

Christine & Philip Taylor
July '11 - Cheshire
B&B - WOW!!! Highest quality for a B&B that I've ever seen. I LOVED IT!!! :) Nice place, good weather, and really good horses in an amazing stable...
July '11 - North Devon
Our hotel had a quirky style, cool, v friendly, great location, great value for money....can't fault it!! We made good use of the free wet suits and body boards!! The stables were very professional, we had lots of encouragement from the teachers, amazing scenery, great horses. The overall Experience was brilliant, would definitely do it again!
July '11 - Jerez and Tarifa
Quality of Riding – This was my favorite part...the horse were great!!! I could tell that these places were hand picked by the owner for their quality horses and professional riding staff. My ride in Tarifa was a dream come true, beach and country side. I could really take in the beauty of a very special place. Katja in Tarifa was very safety conscious, timely and professional. She was a joy to ride with and listen to her facts about the region. Alfonso tambien muy buena gente, I rode his very light and agile Rebenque (Lusitano gelding). What a blast!! I want a horse just like him. Alfonso was very attentive and welcoming as well. I will be booking with Equestrain Escapes again, just have to save money. I completely trust that they will provide quality accomodations, entertainment and riding.
July '11 - North Wales
I would like to take this opportunity to thank Equestrian Escapes for the professionalism and helpfulness they displayed in relation to our booking. The recommendation for our B&B in North Wales was perfect. Our hosts were most welcoming, their property and the location were beautiful and my husband and I had a wonderful time. We were also very happy with the stables and I particularly enjoyed galloping through the waves on my first ever beach ride!
July '11 - Cheshire
I have been riding over 20 years; i would travel 250 miles purely to have a half an hour lesson. We learnt more in the two half hour sessions than i have learnt in ten years and that is not an exaggeration! The horse were excellent and are not what i would call 'typical riding school ponies/horses', which was wonderful to see.
June '11 - Cornwall
This was one of the best weeks in my life! I really loved it, it's really something speciall that I'll remember forever.

Thank you
June '11 - Shropshire
Hi Linsey
I telephoned on a Thursday seeking a holiday the following week and was very impressed with all the staff I came into contact with and the speed and efficiency in which they organised everything (particularly as I had no idea where I want to go). I was in the saddle by the following Monday afternoon. The farmhouse was huge...lovely room, very comfortable bed, great breakfasts and the best hosts you could possibly wish to have.

I rode the same horse for the three days that I was there....she was extremely well mannered and stepped out beautifully. Although I am an experienced rider I have not ridden regularly in recent years, so although I did not want a sleepy horse it was important that I felt safe and in control, which I did. My husband was a novice rider and loved the experience so much that he is now planning on taking further riding lessons back at home

I loved the whole experience...the riding, my hosts and exploring the Shropshire area (so many lovely food places!) It was made particularly special because of the warm welcome we received by Lucia and Perkin, I can't emphasise enough how friendly the welcome was which immediately made us both feel at ease in their home. Their recommendations for places to go and good restaurants really helped us make the most of our time in Shropshire

Thanks
Rebecca Ashmore
June '11 - Brecon Beacons
very pleased with our short break in brecon. stables, riding, guides and horses were excellent. hotel lovely.
thank you

jane alexander
June '11 - Pembrokeshire
A superb tailor made holiday that exceeded our expectations ....
Thank you
June '11 - Almeria
Riding at San Jose, near Almeria is idyllic, well behaved lovely natured horses, a nice guide who is laid back and sings as he rides, gentle rocky mountain paths, a gallop along a picturesque beach and grassy terrain with cacti and tequila plants, a relaxing and lovely experience.

Thank you
June '11 - Shropshire
Hi Lindsey
Just to thank you for helping me arrange my recent horse riding holiday weekend. I thoroughly enjoyed the whole weekend. Chia and Perk made me very welcome and it was so nice to meet the riders that joined us on the hacks. Maybe i will have the opportunity to do it again sometime in the near future.
Best wished
Denise
June '11 - Saumur
Sarah and her staff arranged a 2-day 'escape' for me from Holland to France. They worked very fast in making flexible and convenient arrangements. The hotel was comfortable and just a short walk to Saumur centre. The stable was run by a friendly young woman who took excellent care of her horses and treated me well – including a tasty picnic lunch! This was an enjoyable break for me and good value for money. I will book with Equestrian Escapes again.
Thank you
May '11 - East Devon
The whole service was very good! They take care of all the details for you. All you have to do is pay and then turn up for your holiday. I took on a lot and it was hard work. A whole week with virtually no prior experience. I'm told I did very well, I think half of that was the skill and patience of the instructors. The stables seemed very professional and had a great atmosphere about them. The hacks in Devon were lovely. It's a shame it's so hard to take pictures on a horse. The B&B was lovely and the couple who run it were really nice and welcoming.

Thank you
May '11 - North Devon
As a busy individual with little time to spend searching for holidays, I was delighted that Equestrian Escapes were able to arrange a relaxing and enjoyable riding and spa break with just three days notice. The choice of hotel and riding school was perfect and the staff there were friendly and helpful. I'll definitely be contacting Equestian Escapes again.
Thank you
May '11 - Horses and Chocolate
Excellent tuition, gorgeous, well-cared for horses, friendly staff, beautiful British countryside, a four-poster bed and tasty chocolate! What more could anyone want?

Thank you
May '11 - Cheshire
The cottage was just what we were expecting from the information sent. It was very clean and comfy. Nicely set out and furnished. All mod cons and everything in good working order. The location was excellent. Enjoyed the quiet and privacy but also good as only 10 mins walk to shops, pubs and restaurants. The riding was exceptional. A very friendly and professional set up. The horses were outstanding. We were allocated our horses after an initial assessment of our riding ability (very informal and fun), the horses we were given matched our personalities and skills absolutely spot on. I was very sad to say good bye at the end of the trip. My riding has improved 100% since this trip and my tutor at home was amazed. I have already recommended this holiday to friends. My mother and myself are hoping to book this holiday again within the next few months. After hearing about the fantastic time we had, my husband now wants to go also. Looks like I might be back twice more this year!

Many thanks,

Sarah Cooper & Jane Eastwood
May '11 - Bournemouth
Lindsey,

I just wanted to thank you for setting up our wonderful holiday.

The family at the B&B were so nice. They made us feel right at home, and our room was warm and comfortable. They were a 5-minute walk of the stables-- we had no need to drive at all once we reached the village.

The weather was very windy but we managed to have three very different hacks through open ground, along the cliffs, woodland, and along the beach. The horses wer a pleasure to ride-- very forward going and fast, but surprisingly calm when faced with passersby on bicycles, people waving things on the beach,and even being passed by eight motorcycles as we walked along a short stretch or road.

Claire, who lead our group was very friendly, and showed real skill in matching riders to horses.

Best wishes,

Melinda
May '11 - Portugal
Dear Sarah & Team,

I just wanted to drop you a short email to thank you for suggesting the riding holiday in Portugal from which I have just returned. It was excellent - really brilliant riding holiday. I will definitely book again with yourselves and I think perhaps later in the summer staying closer to home and doing your intensive riding weekend in Cheshire.

Kind regards,

Emily Macleod
May '11 - Jerez
Hi Sarah

I just want to thank you for putting the best holiday together for us. The hotel was superb and very helpful and friendly, especially when we kept on getting lost all the time in the car! The riding was out of this world, Alfonso is just great and the National Stud, well I was in tears from the beginning and when the Mares came galloping in to meet the foals we both lost the plot!! In short we have had (and still are having, in Ronda now) one of the best holidays of our lives.

Thank you.

Jo
April '11 - Cheshire
Hello Lindsey

Just wanted to say that we were really impressed with both Rock Farm B&B and the riding stables in Tarporley. We are already thinking about when we can go back!

Many thanks.

John
April '11 - North Devon
The Village Hotel and Wendy and Martin were lovely. My room was tastefully done and very comfortable, I loved the American Diner breakfast room, and there was lots of choice at breakfast, with the cooked breakfast was very good. I arrived early on the Friday, after my riding had been re-arranged to the afternoon because of the Royal Wedding, and was invited into the breakfast room, given coffee and toast, followed by more than several glasses of bubbly, and watched the Wedding with Wendy & Martin and some of my fellow guests. Perfect!

The riding was very good. I liked the variety of going out on the hills above the town, riding the sand-dunes, and then the wonderful finale of a canter down the beach and taking the horses for a paddle. What I really appreciated was being able to spend some time on the horse before going out on a hack, to make sure I was happy, and being offered to try another if I wished. There seemed to be a good range of ponies/horses to cater for different levels and the staff were very friendly.
Sarah
April '11 - Shropshire
We had a wonderful few days away at your Riding Centre in Shropshire, Chia and Perk made us feel at home and welcome. The area is very beautiful, the views are amazing, a very relaxing atmosphere. The pub ride through the forest was excellent all topped off with a lunch treat (cheesecake) at the pub. As first time riders we didn't really know what to expect, but we had a wonderful stay and the riding was perfect, not to long and not too short.


Thank you all at Equestrian Escapes for all your help and making the weekend a perfect one.
April '11 - Cheshire
Just to say we'd DEFINITELY come back. You handled the booking in such a friendly professional way (especially when I had to cancel due to illness) The accommodation was perfectly adequate and the riding was outstanding. The owner of the stables was so lovely, the horses just amazing, the hacking great and we had the best teacher (I think it was Christine). Honestly it was the best riding experience we've ever had (can you convince the stables to move 100 miles down the M5 so we can use them every week!)

Clare
April '11 - Cheshire
Equestrian Escapes provided us with a wonderful weekend of riding in the beautiful Cheshire countryside, in a professional and friendly atmosphere.
March ' 11 - Brecon Beacons
Hi
I have just returned from a holiday with my sister which we organised through Equestrian Escapes. We stayed the spa hotel in Brecon. I just wanted to let you know that we had a fabulous time. The spa/ride combination was perfect for a short break to get away from it all. I absolutely loved the hotel - it is a real gem and I will certainly be recommending it to others. The Riding Centre was also lovely, with a relaxed unstuffy feel to it.
Thanks for organising such a great break for us.
Rachel
March '11 - Cheshire
Lindsey, you were right to advise me to go to Cheshire, Thanks so much!
The whole experience was Exceptional! Accomodation and hospitality were second to non, what a warm welcome! And the Stables were fabulous, friendly, patient and very informative, I learned so much! I can't wait to book again. Thank you so much.

Anj
March '11 - Bournemouth
The B&B was really excellent. I haven't had a room serviced so nicely since I stayed at Gleneagles and the breakfasts were fantastic (and substantial, yum!) Friendly yard, lovely horses and the beach ride was absolutely, wonderfully, staggeringly lovely!
Had a wonderful time - lovely people, great food, superb horses, amazing beach riding.
Tansy
February '11 - Tarifa
I and my family have recently returned from a holiday in Tarifa. The holiday was organised by Equestrian Escapes. I booked this holiday on the recommendaion of a colleague who rated the service extremely highly. The holiday exceeded expectations in all aspects. My daughter rated the rides as spectacular although tiring, the staff at the Hotel couldn't have been more helpful and friendly and the driver who ferried us to and from the airport to the hotel and also our daughter to and from the stables was brilliant.

The Clarke Family
February '11 - Cheshire
Hi Lou / Sarah,
Just a quick note to thank you so much for the recent equestrian break we've enjoyed in Cheshire.
From the very second we arrived, Frimp and Charlie made us so very welcome.. Rock Farm accommodation was superb, homely and truly comfortable...a true home from home :o) If you could please thank them both again on our behalf.. Our stay was 1st class x

The riding Stables were also outstanding. Poppy and Vicki were thoroughly attentive and absolutely understood what we were capable of... (Niamh a real star, me a complete novice.!!) They were a real pleasure to be with for the few days we were with them... Alison was great, and has an exceptional team - thanks gang x

Overall, what started as a whim, researching 'horsey breaks' at the very last minute...resulted in a fabulous half term break that we'll remember for a long time to come - I'm still feeling muscles (a week on.!) that I'd forgotten I had !! :o)

Many many thanks...a break fully recommended by Family MacNamee.. We'll be back.!

Claire & Niamh xx
February '11 - East Devon spa and ride
Hi, Just wanted to say a big thank you!! Back from my 3 days break in Devon it was fantastic. The teachers lovely, the stables amazing and horses patient. Great area for hacks and can't wait to go back.
Thank you for a brilliant break and to all those involved.

Chloe Card
February '11 - Epona Trail & Train
I really wanted to thank you for this wonderful holiday! The place is really wonderful, I loved the contact with the nature, and the horses: they were all so sweet, always in a good mood, and especially so well trained. The hosts were so delightful, and the food was amazing .... and I am Sicilian which says a lot :):):)
Thank you Sarah for suggesting this particular package to me, it was a magic week, you cannot imagine how special this week has been to me! I would definitely go for it again......
February '11 - Epona Trail & Train
I just thought I would drop you a line about my recent trip to Epona.
Thank you very much for your recommendation.
I had a really great time. The horses are wonderful, well schooled and well mannered and I felt completely safe on them, which helped my confidence immensely.
The level of instruction was excellent and I have re honed the basics.
The food also was excellent, as I vegetarian it is very rare to get good food abroad but Jayne's cooking was second to none and all the meals were fantastic.
Overall 10 out 10 , I am planning to go back later this year if I can.
Michelle
January '11 - Madrid
I just thought you might like to get an update on my riding experience in Madrid. Mariano was absolutely incredible to ride with, he is a very safe rider and informative guide and has a fabulous personality. The riding is phenomenal, and, he has great riding horses. One of the best horse riding experiences that I have ever had! I would most highly recommend him.

Thanks again,
Shalea Adams
January '11 - Jerez Spain
I was handed the task of booking an "unforgettable equestrian vacation" for my boss and his wife for her 45th birthday. As I am not a travel agent, I sceptically researched a number of different companies on-line, and ultimately decided to book with Equestrian Escapes; and I couldn't have made a better decision! Equestrian Escapes custom made exclusive getaway was easy to book as they took care of every single detail, and more importantly for me, my boss and his wife had the most amazing and unforgettable time! I would strongly encourage anyone looking to book an equestrian vacation to put your trust in this company, as they are organized, trustworthy and simply exceptional at what they do.

Julia Robinson, Toronto, ON.
November '10 - Cheshire
Hi Sarah,
just a note to thank you very much for the excellent time I spent riding in Cheshire. The horses, stables, coaches and accommodation were all superb. I am very happy with the progress I made with my riding skills, and look forward to returning there some day soon.
The hacks were amazing - what great county Cheshire is !. I had sunshine all week and as I arrived at Cheshire station to depart, it begun to snow... so excellent timing...
Thank you once again!
Happy Holidays and a healthy, successful 2011 to you all!!
.... hope to be in touch again soon.
Kind regards,
Anke
November '10 - Cheshire
My 13 year old grandaughter's impression of the weekend riding break in Cheshire was: 'the best time ever'. A non rider myself, I enjoyed the beautiful countryside, proximity to Chester (lovely) etc. We have never stayed in B&B before but this one was very good, very accommodating especially in terms of allowing us to check out after lunch on the Sunday to allow my grandaughter to change out of her riding gear for the journey home. The livery stables at the B&B were the smartest I have ever seen.
November '10 - Berkshire
Hello!
Our family recently booked a short break with you and stayed at Maggie's in Berkshire. We had an unbelievably fabulous time. The accommodations were perfect and it was wonderful to wake up to the sound of hoof-steps in front of our cottage and open the shutters to friendly equine faces across the yard. Maggie was amazing -- she offered to watch our 3 year old daughter, Axelle, while my husband and I had lessons. The two of them got on famously to the point that our daughter was completely devastated to leave the farm. She sobbed and sobbed as we said goodbye to Maggie. (This is after Axelle had announced to us that she wanted to stay with Maggie and be one of her "children" and "Papa and Mama could go back to London" and she would walk home later. "Is London far to walk to?") And best of all, my husband and I think we actually made some progress with our riding!
We definitely will be back!
Thanks so much for offering a most memorable holiday!
All the best,
Jean-Pierre & Elizabeth
November '10 Cheshire
Dear Lindsey,
I meant to write to you earlier this week but it has just been a very busy one back at work! Anyway, I just wanted to write you a not to say thank you for an excellent riding break in Cheshire last week. The bed and breakfast was wonderful and they were so welcoming and kind.
The riding was, as you said, excellent. Really helpful, lovely horses and lots of "aha-moments"! Please pass on my thanks to all of them especially Laura (sorry, I'm really bad with names but I think this was her name) who had to put up with me for most of the lessons.
Thanks again
Best wishes
Constanze
My experience right from the day I booked was amazing. I booked four days before i was due to go, they were very helpful and friendly. When I got to my B&B the lady was very welcoming and friendly and it was so cosy, it was like home from home. The riding experience was brilliant with spectacular views, all the girls at the riding school were brilliant and matched me up to the right horse. I shall definatly be going back next year with my friends.
Kayleigh
Just wanted to let you know that we had a fantastic time on our riding break in Cheshire last week. The quality of the instruction and the horses was just brilliant and to make it even better the sun shone on us!

Thank you so much for organising it and a huge thank you to everyone at the stables. It was fab!!

Richard and Leonie
The holiday destination in Devon was very beautiful! The handling of the booking was excellent, was easy and convenient for me. The quality of accommodation was very nice, a great hotel, nice staff, good food and super spa. The quality of the riding was amazing! The horses were outstanding, teachers fantastic, very nice atmosphere and a lot of fun! I'll come back! I would definitely recommend this holiday to family & friends.
October '10 - Cheshire
I have experienced many riding schools/livery yards, and found them very disappointing when it comes to quality of horses and how they are looked after all down to money I fear. I would have no hesitation to recommend the riding school to any age/ability - the horses were all quality well groomed/shod/fed and their stables were spotlessly clean (which tends to be an issue with most riding schools). The staff were very knowledgeable and tailored both our lesson horses and hacking horses to our ability perfectly. The amount of rosettes and pictures on the office wall were a good indication of how versatile all the horses are competing in dressage/show jumping and cross country. The people running this yard and working there obviously care about animals more than the costs, the schools facilities were well maintained with no run down buildings and spotlessly clean. I have horses myself so I understand how difficult it is to provide the best without spending a fortune. Both myself and my daughter will definately be returning to use the riding school again so far it is the best I have been to.
The accommodation was excellent, not what you would expect from a normal B & B. House beautiful, the family were all very inviting and welcoming. Lovely place to stay only a short walk from the stables a bit further to the pub, breakfast was more than ample room was spacious and spotlessly clean.
Overall our holiday was excellent, Cheshire is very tranquil and was a well needed break. The ocation was first class, once there everything was within a coule of miles. Didn't really need the car once we arrived and if you are into walking the B & B was right opposite the footpath into the forest.
Rebecca Camp
October '10 - Berkshire
Hi Sarah/Lindsay

I just wanted to you let you know we had a FANTASTIC time in Berkshire, Maggie was adorable, I liked her very much and her hospitality was amazing. Our room was very cozy, comfy and clean, we had dinner both nights with Maggie and the food was fabulous. The quality of instruction and riding was great too, lovely horses and Col and I both learnt a lot, we were very fortunate that we had superb weather which made our experience all the more enjoyable. I would totally recommend this to anyone wanting an all round package of great food, accommodation and riding, no matter what their ability. The surrounding countryside is also lovely so even if you're not a rider there is plenty to do if you're tagging along with someone who wants to ride.

Anyway thanks for a great service from you and and a truly fantastic weekend. We'll be back soon!

Fiona & Colin
October '10 - Cheshire
Sarah and staff,
Thank you for arranging my holiday, it was everything i hoped and asked for.
Sheila ensured my stay at Tree Farm was comfortable friendly and that i was stuffed every morning with a marvellous breakfast, though I'm not too sure the horses i rode appreciated that. As you state on your website the horses at the stables were all forward going and bomb proof, the staff knowledgeable and friendly, teaching me more in one week than i have learnt in the last 6 months of riding.
I am looking forward to my next experience already, Thank you. Anthony :)
The holiday was set in a beautiful region around the Loire Valley Castles. Sarah is very nice on the phone and helped with my booking, I liked that. The quality of accommodation was superb, the room was very nice. The hotel was well located and the couple who ran the place lovely. The quality of riding was very good, different horses, adventurous hacks, good practice, some dressage exercises that I will do with my own mare, Penelope! This was an exciting place close to Loire River, ride to Chateau de Saumur, great experience visiting Le Cadre Noir.
September '10 - East Devon
Having recently enjoyed an Equestrian Escapes holiday to Devon I thought I would write and tell you about it. The tuition at the riding stables is second to none and the hacks over Woodbury Common are a slice of heaven.
Jessica and James
August '10 - Anglesea
We had a wonderful time in Angelsea. Everything was well thought out, the accommodation was lovely with very friendly hosts and great food. Everyone at the riding centre was very friendly, the horses all had lovely termpermants and cantering along the beach was just perfect!
Auguat '10 - Portugal
A friendly and professionally run set up. Beautiful, naturally reared horses, fun to ride. In all, an excellent riding holiday. Thank you.
August '10 - Cheshire Log Cabins
If you're looking for a great family horsey holiday with stunning rides, gorgeous horses and really friendly staff with lots of different things to do nearby then this is the place!
August '10 - Cheshire
Fantastic instructional break in Cheshire, I took my teenage daughter to improve our riding, 3 days there produced more improvement than months of lessons, We now feel confident in canter and the week after our return our riding school said we were ready to go out hacking, so great breakthrough. Definitely would plan to go back or even try a trip to Spain!
August '10 - Cornwall
I have just returned from my riding holiday in Cornwall and I cannot tell you how fabulous it was. I had the happiest of times and cannot wait to go again. The staff at the Riding School were fabulous, as were the horses, and I enjoyed every minute of every lesson, hack and beach ride. It gave me a lot of confidence and pleasure. I was also perfectly happy with the accommodation and eating facilities and cannot thank you enough for arranging my riding schedule to my satisfaction. All being well (in this gloomy economic climate), I will be in touch to arrange my next happy holiday.

With my sincere thanks again.

Kind regards.

Deborah
July '10 - Spain, Alpurrajas Mountain Riding
We had a superb riding holiday with great teaching, wonderful horses and immensely helpful staff - highly recommended.
Kind