This is the perfect itinerary for beginners wanting to learn to ride in Spain whilst enjoying the relaxing charm of The Alpujarra Mountains. The itinerary includes a full riding programme of instruction and hacking out plus time spent in the stables learning how to handle and care for your horse. There is the option to add on an additional night in Granada where we can arranged a guided visit to the spectacular Alhambra Palace.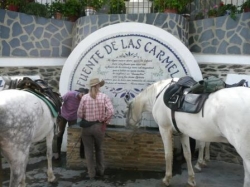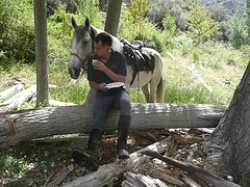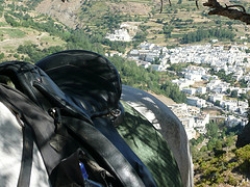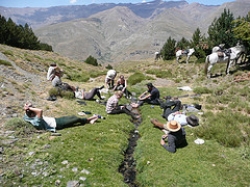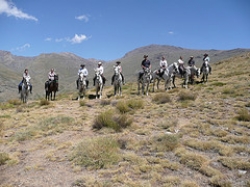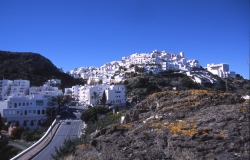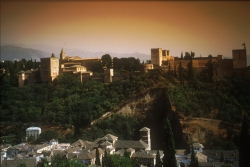 Day One
Arrive at Malaga or Granada airport and head to the hilltop town of Boubion in The Apujarra Mountains. During your holiday you will stay in the comfortable Casa la Sevillana located in the small village of Bubion. The village is quiet and charming and has some great little restaurants and small bars, perfect for a relaxing evening drinking wine and nibbling on tapas.
Day Two
This short break has been especially designed with the beginner or novice rider in mind. The aim of the three day programme is to give you a solid introduction to the basics of riding, handling and caring for your horse. Each day you will have a lesson in the morning with additional instruction explaining the handling and care of your horse. A picnic lunch is included then in the afternoon you will be riding out from the stables into the beautiful Alpujarra Mountains.
Day Three
Today the riding plan will be the same as yesterday. The diversity of bridle-paths and forest tracks that lead from the stables allows us three days to explore many of the more inaccessible ravines and valleys of this mountainous region. From the high summer pastures and streams fed by the snow melt of the Mulhacen, down to the whitewashed villages in the valleys.
Day Four
Today is the last riding day. The routes for the afternoon rides are planned so that we ride over totally different terrain each day where possible. One day we follow small paths high into the mountains, with spectacular views on a clear day of the Mediterranean on one hand and the highest peaks on the other. On other days we take slightly lower routes where the many forest tracks allow for a faster pace for those who are feeling more confident.
Day Five - Option fly home or spend a day in Granada
Today it will be time to leave the mountains and drive down to the spectacular city of Granada. According to many, Granada is the most beautiful city in Andalucia displaying a fusion of both Western and Eastern cultures. As you wander through its charming streets your body is infused with the unequivocal atmosphere of its historic past. Gazing up from the city you will be stunned by one of the most marvellous architectural feats of the world; the Alhambra Palace. Truly this is like a scene from one of the stories of A Thousand and One Arabian Nights, we will organise today for you a guided tour of this spectacular palace.
Day Six
Depart
Prices
£475 per person in shared twin on the 4 night holiday without Granada
Dates 2012
19 - 23 May
02 - 06 June
23 - 27 June
14 - 18 July
25 - 29 Aug
09 - 13 Sept

Other dates may be possible, please call us 01829 781123.
Inexpensive flights are available to Granada and Malaga from many airports in the UK if you need help finding flights please call us on 01829 781123.

If you are looking for a great selection of horse riding holidays in Spain then look no further. Our horse riding holidays Spain offer it all; from beautiful rides on the beach to a visit to watch a breath-taking performance by The Royal Riding School in Jerez. To browse our full range of riding holidays in Spain please click on the button that says Spain on the right hand side of the page.
Equestrian Escapes specialises in horse riding holidays in Andalucia. Our horse riding holiday Spain packages are suitable for all ages and cater for all different riding experiences.
If you are interested in riding in Spain you may like to look at some other holidays that we offer a few of these can be found below.
Trail and Train Riding Holidays Spain
In Spain we offer a range of different riding holidays for everyone's needs. Our riding holidays Spain include trail riding, beach rides, mountain riding and also instruction. This means you are sure to find an equestrian holiday suitable for you.
We inspect all the horses in our horse riding holidays to ensure the best quality holiday for you.
Read Full Riding Holiday Itinerary »




What to do next...
Choose one of the following options, or call us on 01829 781123, we'd love to speak to you about your horse riding holiday!
Download Booking Form Now »
Email Us Your Requirements »